Xphirience Meditation MP3s
Xphirience is an original meditation technology developed by the Swedish musician Marcus Knudsen. It is more intense than any other brainwave entrainment recordings I've used before, inducing a trippy meditative state in a few minutes.
What makes it unique is the "Golden Ratio" encoded therein. This mathematical ratio is based on the concept of fractal patterns which appear throughout nature.
But first - why bother with meditation or meditation technology at all? What good is it for?
When you learn how to meditate deeply and heighten your awareness of the intuitive thoughts within, you forget your physical senses and go on a mental trip. It's ideal training ground for lucid dreams and OBE induction, while also providing ongoing stress relief - through a totally safe and natural high.
Buddhist Tibetan monks spend years developing this state of theta meditation naturally. It is only through new technology that we can accelerate the learning process, by tuning your brain into this meditative state through sound.
A Little Backstory
In 2009, Marcus uploaded a sample of his experimental Golden Ratio (1.618...) onto YouTube. He explained how he had discovered the sound while experimenting on his computer - and that the resulting audio seemed to be putting his initial guinea pigs into altered states of awareness within a few minutes of listening.
Little did he know the viral effect this would have. His YouTube video received more than 6 million views, all on its own merit (no fancy advertising or marketing was used). There was enormous demand to download the recording so people could listen to it anytime, anywhere. And so he launched the website Xphirience.com.
The Effects of Xphirience
Marcus now sells six Golden Ratio encoded recordings on his website (details below). He has accumulated a great deal more feedback from users around the world, who have reported specific effects such as:
Deep meditative state in minutes
Mind chatter slowing down
Seeing inner visions
Expanded awareness
OOBEs (out of body experiences)
Floating limbs and disassociation
Swirling colors and complex patterns
Inner balance and harmony
Long lasting relaxed state
Deep rejuvenation
Improved sleep
This video summarizes Xphirience and how the Golden Ratio is applied to the sound. After chatting with Marcus about the mathematics behind his sound technology, I have gone a little deeper - see below.
Discovering The Golden Ratio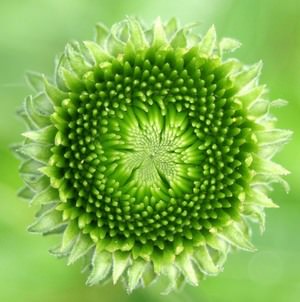 Marcus first came up with the idea for Xphirience when he was studying the Golden Ratio - a mathematical pattern which frequently appears in nature. Also known as fractal patterns, you can see the result in whirling water, magnetic fields, nautilus shells, galaxies and even your own hypnagogia. There's quite a poetry to it; fractals are often self-similar which means they appear the same whether you view from close-up or from afar.
With his fractal formula in hand, Marcus programmed this Golden Ratio into his proprietary brainwave entrainment audios. He tested the result to see if the brain would recognize the natural properties of the sound and entrain itself to that mode.
It worked. After many test runs, Marcus found that virtually everyone who listened to Xphirience reported some form of instant meditation, within 1-5 minutes. The effects they described sounded very similar to the meditations of advanced yogis.
First-Hand Results
While it began as an experimental project, Xphirience has become a top brainwave entrainment product in its own right. Since the first Xphirience meditation MP3 was released, people have reported a range of positive effects:
"It seems that the incoming energy starts balancing negative blockages like negative emotions," Marcus reported. "People who felt irritated or sad to begin with could listen to Xphirience and feel better immediately. People who have never meditated before also report feelings of deep relaxation within minutes."
I started listening to Xphirience in 2010 and even on the first session could see why this is indeed an original brainwave entrainment. It's really powerful - in fact, initially I could only listen in 10 minutes bursts because the trip became too overwhelming! I needed to pause and reflect on everything that had just happened.
Marcus has received many similar reports from others, who say it creates these profound internal states faster than other entrainment products. "Needless to say," Marcus said, "I am really excited about the potential of Xphirience and hope many people tune in to its power."
How to Download
Due to the success of the original Xphirience, there are now several recordings and value packages you can download. All recordings are available for instant download and covered by a 30-day refund guarantee backed by PayPal.
Single Products
Xphirience - This is the original recording used in Marcus' initial experiments and is the track on which I have based my review. A sample on YouTube received 6.3 million views. Download this 33-minute MP3 for 21 Euro (about 28 USD or 18 GBP).
Xphirience Balance Plus - Designed for use before meditation to enhance the experience, this is especially good for people who tend to fall asleep while listening to brainwave entrainment or have trouble "tuning in".
Xphirience Blissful Rain - Meditate to the soothing sound of rainfall. Marcus chose rain because it is a peaceful, natural sound which compliments his Golden Ratio. It creates a dramatic soundscape and does not require headphones.
Golden Perfection - Hear complex flowing soundwaves and hypnotic sequences with nanosecond precision. Soft bell-like tones feature in Golden Sequence, while organic flowing soundwaves make up Golden Flow, both 45 minutes long.
Multi-Pack Products - Best Value
Bliss of Nature - Comprising four natural soundscapes, this value pack includes Paradise Forest, Ocean of Serenity, Distant Thunder and Summer Rain, each 45 minutes in length. Each track is amplified by Golden Ratio encoding.
Triple Pack - Save 40% by downloading Xphirience, Xphirience Balance Plus, and Xphirience Blissful Rain together for 39 Euros (52 USD or 33 GBP).
Quadruple Pack - Save 43% by downloading Xphirience, Balance Plus, Blissful Rain and Golden Perfection together for 41 Euros (55 USD or 35 GBP). Includes the free bonus track Wonderful Life.
Super Pack 2.0 - Save 46% by downloading all of Marcus' Golden Ratio products together: Xphirience, Balance Plus, Blissful Rain, Golden Perfection, Bliss of Nature and the free bonus Wonderful Life. This is the best deal of all at 79 Euros for a total of 7 hours' listening time (105 USD or 67 GBP).
Final Thoughts
Many people have found that listening to Xphirience, they start to feel noticeable effects within 1-5 minutes. You can instantly download and listen to these MP3s from your computer, but I recommend transferring to an MP3 player or mobile device and listening while relaxing with eyes closed on the couch or in bed at night.
Remember that every meditation session is good practice for lucid dream induction, and you may even be able to migrate directly from an Xphirience session into a Wake Induced Lucid Dream, starting by molding your hypnagogic imagery.

Next: Lucid Dreaming Supplements