How a Lucid Dreaming Community Was Born
Folks,
Gather round. I've a story to tell.
It's a story of tragedy, re-birth and fresh beginnings…
I'm sure there's even a phoenix in there too.
But fear not, it has a happy ending!
Let's start right at the beginning…
A Tale of Trolls
There's been a lot going on at World of Lucid Dreaming over the last 3 years since I took over as Chief Lucidity Officer.
So much so, that I'd started to get a bit restless. In need of break, let's say.
In fact, it was one evening last year while I was mulling over a flagon of mead (or maybe it was a cup of tea), that I started thinking about all the trolls we'd had recently.
You know, annoying, irritating, little trolls.
Trolls seem to get everywhere these days. Especially in this day and age where social media seems to have taken on an underlying edge of negativity and bad vibes.
They'd even started to infiltrate our own forum!
Which to be honest, did have a few problems. It was a bit like a grand old mansion covered in ivy that'd seen better days.
At its peak in 2014 we had some pretty impressive stats: 60,171 posts, 134 people online simultaneously and over 10,000 registered users.
It used to be quite the party… but over the years, folks had dropped off.
The place had collected cobwebs and a few trolls had taken up residence in the attic (like racoons).
I was beginning to see some grumpy negative comments - and my mind started to tick...
The Other Side of The Castle
Yet on the other side of the coin, we had another problem at castle WOLD.
We had the happy people!
We had over 4,138 happy customers who had purchased our online course Lucid Dreaming Fast Track.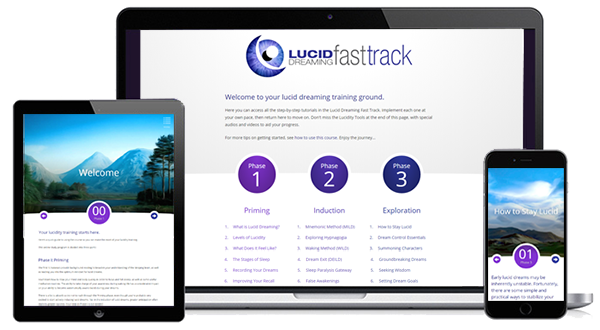 Let me give a little bit of history on the Fast Track… We launched this in 2014 and it's been (if I do say so myself) one of the most well-received lucid dreaming education products in the field. We got a ton of great reviews and very rarely did anybody ask for a refund.
But as I was supping on my mead (OK, it was chamomile tea), I needed to ask myself some hard questions.
Were we really serving these loyal members properly?
They'd purchased the course for $47 and hundreds would return month-after-month to login and keep on learning.
These were folks we'd successfully taught how to lucid dream. People that had written us stories about the amazing dreams they'd had... and the impact lucid dreaming had on their lives.
Yet the course hadn't been updated in 5 years!
That seemed a bit slack to us! However, what should we possibly do?
Should I update the course with fresh content?
Maybe reduce the price?
Perhaps reach out to our loyal customers with a token of appreciation?
Or something else entirely?
I started to think that it may be time for some spring-cleaning. Time to give our flagship product a big update, ready to take it into the 2020s.
And so out came the feather duster...
Tragedy strikes!
But just as I was about to start cleaning up, tragedy struck!
We were hacked!
And let me tell you, that's one of the most awful feelings I've ever had. Fortunately nobody has ever broken down my door and ransacked my actual house… but I imagine the emotional response would be very similar.
A group of pesky hackers had broken into our forum and over-run it with all manner of fowl-smelling spam and malicious attacks.
Well, let's just say we weren't going to put up with that!
But evicting hackers is not an easy thing to do. It's a bit like trying to get rid of bad tenants, squatters (or even racoons) from your property. Let's just say it's a real battle.
And these guys weren't amateurs either.
After a week of gruelling back and forth gun fighting, it became clear. There was only one way to ensure the hackers could never get back into our forum - with its outdated software and buggy customisations. And that was to remove it completely.
And so it happened.
I pressed the delete button and put the poor old forum out of its misery forever.
5 years of community and hard work flushed straight down the toilet.
A Phoenix Rises From the Ashes
So - imbibed with strength from the now 17 flagons of mead (I've moved to coffee by this point) consumed since this all started - and fatigued from the defeat of the hackers – I gave birth to an idea.
What if I could turn this miserable situation to my advantage?
What if I could find the silver lining inside the cloud?
After all, when life hands you lemons – you make lemonade, right :-)
What if I could find a way to replace the forum, bring Lucid Dreaming Fast Track up to date, make it cheaper to access, provide more value to our subscribers and re-build our energetic lucid dreaming community all at the same time?
It wouldn't be easy. But I knew I'd find a way.
And that is exactly how The World of Lucid Dreaming Academy was born!
But it didn't happen overnight.
Because at that point all I had was an empty flagon and an idea. It was time to…
Muster The Forces
I reached out to my closest circle of lucid dreaming friends and colleagues and I started to build a task force. I needed to build a team of dreamers who would be willing to help beta test the new software platform.
Because we'd need something brand new and ready to take WOLD into the 2020s.
A modern, beautiful, e-learning platform with flexible exams at the end of each module.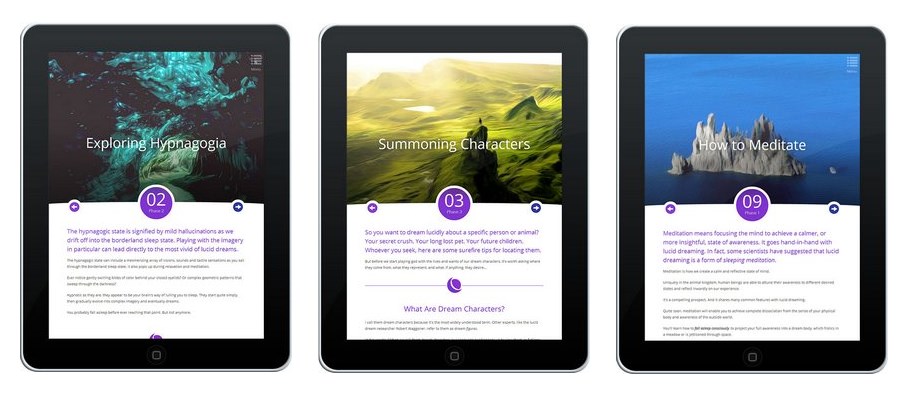 And no more buggy outdated forums. We needed the best software - with top-end security , modern social features like Facebook and real-time video chat for our members.
In the end I gathered a motley crew of 54 beta testers. Mostly experienced lucid dreamers (Peter has had over 5,000 lucid dreams) and of course my friends and esteemed lucid dreaming authors and researchers Dr. Clare Johnson and Dr. Denholm Aspy.
And that's how it happened.
We banded together and over 3 months we trialled the World of Lucid Dreaming Academy.
Our Tales Ends (or does it?)
It's been two months now since we launched to the public.
And I'm happy to say it everything has turned out better than I could have hoped for during those dark days :-)
See, told you there was happy ending!
And my favourite thing… those trolls I mentioned?
Are nowhere to be seen now...
Because our private forums now have solid community guidelines to keep all negative energy at bay (and are completely free of spam and ads).
Our community is thriving right now and continuing to grow every day. And that's because we're inclusive and focussed on positive energy. One of the best things about lucid dreaming is that it attracts folks from the broadest set of belief systems – and we welcome you all!
But, it's been about more than just re-building the private forums.
We also started a private podcast and Live Q&A that's available to our members. Each month we interview a leading lucid dreaming expert, researcher or author – and you get to ask your questions!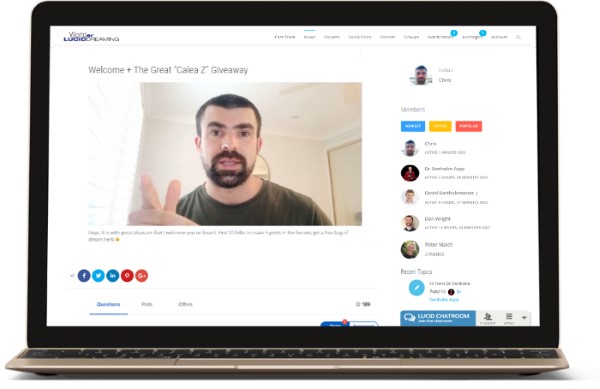 Just last week we went into insane depth on the MILD technique with Dr. Denholm Aspy, who studied this induction method across hundreds of participants in his research.
And afterwards we dissected the results in the forum and live chat!
It's also been about community projects.
We've got a project in motion as we speak to "crowd design" a reality check totem. The community gets to decide the features of the totem – using our voting engine. And then we get the designs engineered and manufactured. Which by the way, we give away free to all members :-)
This whole year has really been a process of adapting, re-building, consolidating and trying to provide more value than ever before.
Because yes - we did update our online course, guided hypnosis & meditation audios with fresh new content.
And now you can access it – plus all the community features - for less than half the $47 we used to charge.
So if you'd like to try it out, now is the time - just grab a 14 Day Free Trial!
See you there!