Usain Bolt: A Remarkable Human Being
Posted: 09 Apr 2014 23:06
My son decided to do a newspaper article on Usain Bolt for his Easter Project. I suggested an editorial column, where, besides the information from the research he's gathered, he could also give his opinions or at least an original angle. The result looks great, with pictures of the athlete and everything! The fictitious newspaper is called "The Batista Gazette" and the heading is the subject-title of this topic. This is the text that went with it! Enjoy...
Usain Bolt: A remarkable human being
He is considered to be the fastest man in the world. He is the first to achieve 100 metres and 200 metres world records, and he has six Olympic gold medals in sprinting. As a boy, he was already the fastest runner in school. Today, he is the highest paid athlete ever in track and field. His name is Usain Bolt and he comes from Jamaica.
Runners like Michael Johnson (once considered to be the fastest) could only dream of achieving what Bolt has achieved at such a young age. Usain Bolt has impressed the world and he has impressed me. They even call him "Lightning Bolt." But has the man always done his best? Has he been as serious as other athletes? Here's a revelation: As Usain Bolt grew popular, he grew distracted and began to party in Kingston, Jamaica's capital; he indulged in fast food and ignored the athlete's disciplined lifestyle; and athlete Pablo McNeil, who trained with Bolt at the William Knibb Memorial High School, grew sick of the man's practical jokes.
Usain Bolt only relied on his natural ability and it took new coach Glen Mills, in 2005, to talk some sense into him and get the champ to take training more seriously. No coach or manager found it acceptable for a renowned athlete to hide in the back of a van , as a joke, and have the authorities looking for him - Bolt did this, and he did it right before the CARIFTA Trials. People were outraged at the time, and, on top of it, the community blamed an already incensed McNeil.
Usain Bolt also refused invitations to do sports scholarships in America, preferring instead his Jamaican training facility. This might have gone against him when he faced his American opponents in 2007 and the Jamaican record fell. That same year saw Bolt losing to Tyson Gay in Japan. Later, of course, Bolt recovered his championship title. Bolt's lack of seriousness might have also let him down against Wallace Spearman at the International Association of Athletics Federation (IAAF) World Cup in Athens.
Could Usain Bolt, the great, have been even better? I say yes. Did he always perform to the best of his ability? Apparently not. Do we have the answer to how fast a human being can go? No. We need a seriously determined athlete. But, to Bolt's credit, it's fair to mention that he has donated to those in need, namely, victims of a Chinese earthquake. Bolt also refuted accusations from commentators, like Victor Conte, that he was taking drugs (like many other athletes who let us down: Ben Johnson with his steroids; Justin Gatlin with amphetamines) by taking drug tests and proving himself to be "clean." Glen Mills and Herb Elliott (team doctor) came to his defence. Bolt might have been a little immature in the past, but he has proved himself to be honest and a good guy.
Athletes from other sports, like cricket, football, and basketball, admire Usain Bolt. He has been a special guest for Manchester United at the 2011 UEFA Champions League Final in London, and, in 2013, he also scored two points from a slam dunk at the NBA All-Star Weekend Celebrity Game. When Bolt returned to Jamaica after his Olympic success, he was awarded with an Order of Distinction (which recognises his achievements).
Despite Usain Bolt's clowning around as he runs on the track, the distractions he could do without such as glancing at his opponents, his imbalance as he moves like lightning, and his scoliosis (curved spine condition) which causes him lower back pain, the man has managed to be the best of the best! The only thing which sometimes let him down were his injuries, but, even so, they were not enough to prevent our champ from standing victorious at a Grand Prix. If not for his setbacks and frivolity, virtually every sprinter might consider him unbeatable. That's how big he is!
People wonder if Usain Bolt has a secret to success. Jamaican townspeople have all sorts of theories. Some say he takes a magic potion; others believe he is blessed by God; some say he's that fast because he eats a wide variety of Jamaican fresh fish; some see Bolt as a sorcerer. I think his father, old Wellesley Bolt, has it right when he says: "It's in the genes. When I was a kid in primary school, nobody could outrun me either." And Bolt's mother reveals that, as a young man, our champion used to carry gallons of water from the nearest town into the village where they all lived (as their house had no running water).
Usain Bolt is a mystery unto himself. "I just blew my mind, and blew the world's mind," the man once said.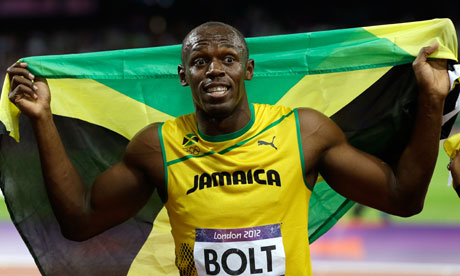 Sources of information:
Wikipedia: Usain Bolt; Jamaica
The Telegraph: The Young Runners of Jamaica's 'Sprint Factory' in Action, by Tom Leonard
BBC three: The Fastest Man Who Has Ever Lived, presented by Michael Johnson
CBSSports.com
Share (Canadian newspaper): The Secret To Usain Bolt's Success