Wait, I just remembered a study (yes, a scientific one). It was a study, if I remember correctly, that says when electrons are observed, they act differently then when they are not observed. So if that's true, how do we know the same can't happen with anything else?
If you are talking about what Thomas Campbell implied, let me tell you he is not a reliable source. Mr. Campbell and many alike (popularisers of the double-slit experiment laced with mysticism) are deliberately giving the laymen the wrong impression. Meanwhile, real physicists can see right through him and stay well away.
Let me explain something to you about the word "observation" that they use. When physicists say "observation", they really mean making a measurement. Campbell, on the other hand, gets his lemmings to believe that the word should be taken literally. All this malarkey is done in the name of keeping Monroe's legacy and unfounded belief system alive. He claims to present a refined model including a theory of everything and, oh my lord he is so clever in his words that he even claims to hold the "big picture" while mainstream science has the "little picture" view.
Consciousness has nothing to do with what happens in the behaviour of photons. Photons and electrons leave an interference pattern on the wall very much like that of waves after having gone through the slits. The measuring device consists of bulbs that will interfere with the photons' trajectory and thus changing the outcome.
Make no mistake about it. There is nothing magical when it comes to Heisenberg's Uncertainty Principle. What is uncertain about it is the fact that we can never know what route the quantum particles took because, whenever you measure (better to use this word to avoid confusion) something, you will inadvertently change its state.
Think about this analogy (which reflects what lies at the heart of the uncertainty principle of quantum physics): it is a dark night and you are trying to see what a tennis ball looks like in a vast field. You can't see where it is and have no idea what it looks like so you use a torchlight (to make a
measurement
). You shine a light on the ball and see that it looks bright green and it is very well lit. But this is not what the ball looked like prior to the measurement. You have changed its appearance. It probably looked dark and shaded before but what you see now is a different picture as photons bounce off its surface and your eyes pick up on this.
Consciousness did not play a role in changing the ball's appearance any more than it did in changing the trajectory of electrons/photons. The only part it played was being aware of the experiment and the individual deciding to shine a light on it (and it was this measurement that changed its state). In a similar manner, the measuring device changes the state of electrons or photons -
not conscious observation
(guarantee you this 100%!).
Furthermore, these people who claim that in their experiments the pattern changes by simply looking or not looking at the data that was recorded are either fantasising or being deceitful. Campbell's version of the experiment, where he claims that the measuring device can be turned off but the interference pattern remains if we never look at the recordings simply does not happen and it is false.
There was another study that I found quite interesting. My brother told me of this one and I thought he was kidding, but here it is. They had a guy on his death bed, about to die. This bed was also a weight scale. So it could measure the weight of the man about to die. They found that upon dying, the man weighed a very small amount less. This study was trying to find if the soul had a weight to it, or if there was a soul at all. Very intriguing to me, especially since this was a scientific study. I'm sure opposing scientists could come up with a million and one reasons for this, but it's interesting, none the less. Science is evolving at a rapid pace. You never know, before long, ghosts could be proven to exist
LMAO!!!
I'm sorry! I'm not laughing at you - just your naivete which is common amongst many young people. You are talking about Duncan MacLeod. Oh no, not that one! I meant Duncan MacDougall but he might as well have been the first one if he believes in immortality. To say that the human soul weighs 21 grams is ridiculous and I am not surprised that his test has never been repeated with the same results! He was known to be very imprecise in his measurements and very biased. Some said he was suspect from the get-go. Anyway, we can now ascertain that the 21-gram soul notion is all hooey.
One can see him mistaking the loss of weight due to evaporation of moisture in respiration, evaporation of sweat, the evacuation of some urine etc. for that of the departure of the soul. Very unscientific and not deserving of merit.
It is not surprising then that no loss was reported for dogs as this corroborated his religious belief that animals don't have souls! Further down the trough, it was found that this doctor had failed to take into account the sudden rise in temperature at death when the blood stops being air-cooled through the lungs. It is also a known fact that in humans, the sudden rise will cause sweat and moisture evaporation (hence weight loss) and why this did not register in dogs (dogs cool themselves by panting, not sweating!).
This guy demonstrated nothing but natural port-mortem weight loss - nothing to so with souls!
The only credit I would give him was that he admitted that his experiments would have to be repeated many times with similar results before any conclusions were made. They weren't. There was weight loss but he had even got the amounts wrong. For starters, even the scales were found to be erroneous.
Until they had an experience for themselves. I think I have a very rational mind. If anything strange happens in my life, something I can't explain, I'll try, subconsciously most likely, to put a label on it. To define what happened, to tell myself it couldn't possibly be anything out of the ordinary. But when I can't, and I see no explanation for it, slowly but surely, I'm open to more and more possibilities.
As a child, I did experience what seemed to be poltergeist activity and I even remember blacking out. My mother, who has spiritualist beliefs thought that I had been possessed. But looking back, I have become aware of other mundane elements which can't be ignored and just show that sometimes things are not as they seem. For starters, there was a lot of tension in the house and members of the family that were not trustworthy. The psychological impact it had on me as a child prompted an unexpected response on my part - and possibly a protective one from my unconscious mind. See, I experienced it and I still don't believe in the paranormal.
I don't want to come across as a grandiloquent so-and-so but I will tell you with utmost confidence that scientists have more chances of finding the Higgs boson at CERN than the essence of ghosts. I'm telling you: they don't exist. Evidence supports that consciousness is inherent in the complexity of matter (especially when there is nothing in the known universe as complex as the human brain) just like gravitation creates heavier elements in space. From a cloud of dust, to rocks, to planets, to stars... the heavier and more complex they get, the warmer they tend to get and beyond this they get so hot that light is produced. The excitation of atoms and how they interact causes the release of photons. Amazing! I believe something similar happens to organisms as they evolve. The bright light of a star is analogous to the thinking brain. Rocks in space would be akin to inanimate objects.
You may be open but not so much that your brain falls out. Beware of tripe out there.
If the thought of not existing is more comforting to you, than by all means. But I think my living self will be happier believing there is more to life than death. Why would these thoughts be inside so many people? If they were planted by others, who put the thought in their head? And so forth. Are humans really so?
It's not that the thought of not existing is more comforting to me. I just don't mind it. Although, I've got to say that, the more I got rid of thoughts in meditation, the happier I felt. And now, in my normal looking state, I seem to compensate and end up writing essays! LOL!
I don't know why these thoughts would be inside people's heads. A recent study on psychology has suggested that we are prone to believing in invisible agents from an early age. When a child doesn't understand the natural behaviour of certain objects, they tend to assume that someone must be interacting with them and that they are not only invisible but also more powerful. It is also more interesting to believe in that. Apart from lack of comprehension, fear and fascination play their role.
If you ask me, it was an idea that was born, developed and scattered. If it wasn't that, it might have been something else. It was most likely random at the beginning and not something that someone concocted for nefarious reasons. I think that religious belief has helped to form civilisation... it really did bring people together. Maybe it was necessary at the primal stages when we weren't so evolved and less intellectual. I guess we needed to believe in something greater and be afraid. This idea began to be used to control people. Today, it has certainly evolved into something more corrupt and hard to let go.
Perhaps it still has a purpose today but I think that we have outgrown it. It is time we grew up and recognised that we can be good and kind to each other without having to believe or wholeheartedly accept something that hasn't been proved and which I honestly believe never will because for me it is simply not there.
Isn't it funny that people used to think the eclipse was a sign from the Gods and that thunder meant that they were angry? And then we have to take into account the fact that they also experienced hallucinations, false awakenings and our beloved visions of the night. A lot of the mythical beings in folklore come from these states of mind. If its not angel visitations, it is alien abductions (in this day and age). Very often they come at night when people are half asleep, feel paralysed and vibrations are experienced.
Check out these links:
http://obe4u.com/?page_id=307
http://obe4u.com/?page_id=310
I was even "abducted by aliens" when I was trying to induce a WILD. Funnily enough it happened around the time when I was watching Stephen Spielberg's
Taken
series. My experience felt so real and terrifying that I was even inspired to create this depiction of it: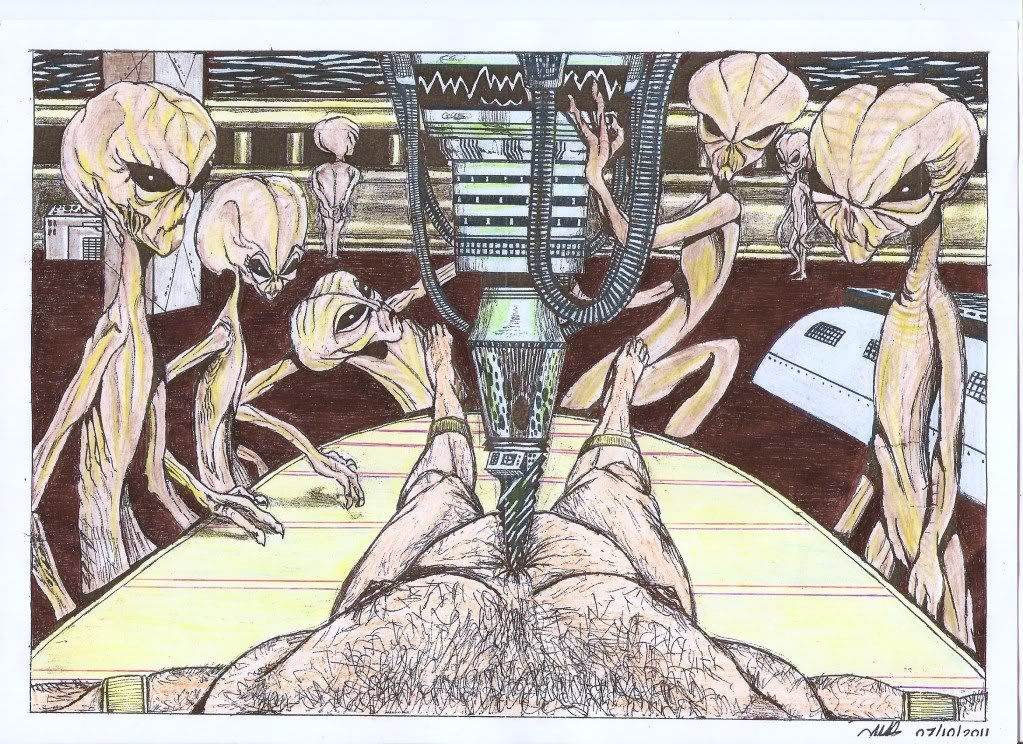 But considering the nature of lucid dreams and how real they can get, it doesn't surprise me. Our minds have have enough waking state experience to learn from it and to be quite capable of emulating realistic scenarios coupled with grand illusions of sentience in simulated characters. We deal with people and different kinds of behaviour everyday. Our active imagination is fertile ground for creativity and our beloved lucid state makes it seem actual in every way and more...
It's inspiring! Here's another lucid-dream inspired drawing in my journal. It's like I have gone to another world! We have everything we need in our minds: