I'm on top a roof from trying to take food form puppies and one got out the window so there I was . I looked at the sky and my surroundings and thought this is strange immediately I became lucid. I got very excited so I noticed the dream start to fade and breathed in and out very slowly a few times and the dream imagery began to come back and once it became clear, I wanted it to become more clear. So I YELLED "INCREASE CLARITY NOW!" everything became even more clear and vivid x10 more than real life and everything looked similar to GTA city would except no game graphics whatsoever. I then jumped off the roof of the house I was on and landed in the usual iron man style. I then started to run at a light jog and my mind was racing. I was increased my run from a job to a sprint while running side a highway and yelled "INCREASE LUCIDITY NOW"! Instantly a helicopter flew very close by me and crashed near a bridge that looked similar to the golden gate bridge. At the same time this happened several cop cars and average cars flew by me going very fast on the road in groups of 3 and 4. One of the cop cars almost hit me when it was driving by but I matrix dodged it by jumped over it as someone would jump on a high-jump bit with my back facing the top of the car. I remember feeling my back brush over the back of the car feeling the cold aluminum steel wet with rain touch my skin truly strange in a dream.
Next I noticed it was raining and I was rather cold, it was also night time, so I looked at the big bright moon and thought wow it'd be so nice if it was sunny I rose my hand up and pointed to the sun and thought "I WANT SUN", next thing I know 5-6 flaming fire balls twirling upwards in space towards the moon were heading right for the moon and all the sudden they collided with it transforming it into a sun. I thought okay that was badass. Then I knew what I wanted to do next because as I was looking up at the sky to change the sun I noticed a large amount of purple clouds with electricity in them. Behind them I could see a wonderful image of our milky way galaxy and its stars (yes, I could see the stars even though the sun was out). I put my thumb up the clouds and started clearing them and swiping them away (Similar to the movie Bruce Almighty if you've seen it). I then thought, "I want a beautiful nebula in my view", all of the sudden the milky way stars began to shift and change and before my eyes was the EAGLE NEBULA or something very similar to it anyway. It looked a little more red in person.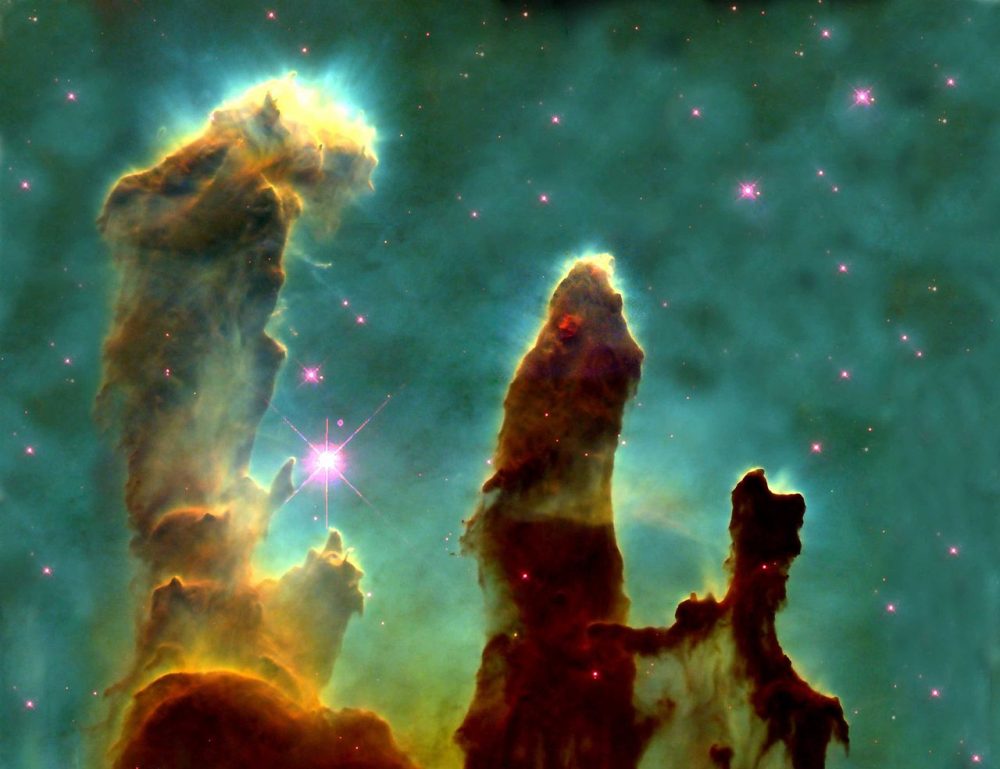 Sadly I didn't have much time to look at the beautiful nebula, I merely wanted to know that it was possible to mold the universe which I accomplished at 100 percent id say.
Next on my list was time control including rewinding which would conclude that fast-forwarding is also possible. At the moment I was thinking that another explosion happened about 100 feet away. The perfect time to tell if I could stop time. As the ball of fire from the explosion was growing rapidly, I thought "STOP TIME!" immediately everything halted, except it wasn't perfectly stopped it was ever so slowly continuing and I know this because the ball of fire was slowly but surely expanding and not turning into a black smoke (usually that happens when an explosion gets done happening). But what I didn't notice is it got slower and slower almost to a complete stop and I thought okay that seemed to work now time to rewind. I thought "REWIND" and everything began to rewind in a generally speed of rewind not fast not slow the ball of fire from the explosion started to get smaller and smaller (while this was happening I was thinking WOW BUILDIT wasn't lying this really is possible, not that I thought he was lying). What was most interesting about the whole time control thing was how I.. the dreamer was functioning, when time slowed I wasn't slowed down when time rewound I did not rewind just the events that were happening around me my thought process wasn't effected either which I thought initially there might be some interference. This leads me to conclude that time does not exist in dreams in a sense obviously that it does in the real world in waking consciousness. After a bit of rewinding I made it stop and everything went into normal time. I then woke up in a hotel room with 2 beds and a T.V. (the tv was from like 2000) and I noticed my dad woke me up. I was rather frustrated with him but also excited as I had made so much progress in this dream.. I then woke up for real in real life in my bed and began writing...
I went to bed from 12-1am slept till 8am woke up for 2 minutes and went back to bed and woke up at 9am. from 8-9am this dream had happened, there was a preceding non-lucid dream to this lucid dream but it was not worth mentioning as the prime directive of my post is to discuss the lucid aspect of dreams.
I did not take a melatonin pill (which leads me to conclude that melatonin is not needed for overtly intensifying LD's and dream control-NO DRUG IS NEEDED FOR LDing)
The dream was NOT induced in anyway using any DILD or WILD technique I simply became lucid when I noticed my surroundings were rather strange.
Thanks to this forum I appreciate your insights and ideas I don't believe my recent successes in my dreams would of been here without this site the people on here give me hope and ideas to try almost everyday. If anything the normal people are right here on this forum and people who don't LD/remember there dreams are the weirdo's, ANY QUESTIONS OR COMMENTS PLEASE FEEL FREE THANKS EVERYONE.