Hi, folks!
I was reviewing my collection of lucid dreams since I started my practice and came across an interesting one that puzzled me at the time. Looking back now, it appears that my mind was reflecting two worldviews which at the time were the topics of much debate during my Astral Viewers days.
I was open to the idea of astral projection but did not hold it as a firm belief. It was my inquisitive mind, I guess, and I was looking into altered states of consciousness in an attempt to determine their nature. The more I experienced the more I felt that I should read up on the brain and the more it felt like there was only lucid dreaming (even if many of my experiences started off with the apparent separation from the physical body).
19/05/2010:
I went to bed at 1.30am last night and was woken up by my daughter having a nightmare around 4am. She hasn't been well but me and my partner managed to settle her. Even though I was tired, I thought it would be a good idea to induce a WILD using meditation and the separation method. The vibrational state ensued aggressively and was accompanied by bursts of sound. I could hear something like wind, a speeding train, and a constant flow of energy originating from my head was felt. I don't think I willed myself to separate, it felt more like I was expelled from my body.
Again, dream space was filled with an inaccurate replica of my bedroom. It was tidier, there were four windows rather than three, Stacey was missing, and what should've been my physical body in bed resembled a mannequin that felt soft like rubber. I even touched the hard frame of the bed which felt real and a clear indication of a deep lucid state. I also investigated my naked dream body. My hands were thick and rubbery and parts of my skin felt like cloth. This strange skin was peeling off on certain areas of the body and reminded me of the surface of a worn out football. My genitals were rubbery and engorged.
Being in dreamland and experiencing this lucid madness brought a smile to my face. I felt my face and there was a smile there indeed. I went right through the windows to find that, on the other side, the environment was nothing like the street or area I live in. There was a wide path with a red carpet extending from my dream abode all the way to a massive golden structure that resembled a temple about a mile away. I glided towards it and could make out some details. The entrance and the windows showed that the temple was lit inside. It stood in amazing detail and clarity under a blue night sky that verged on dawn.
I noticed some turquoise trees and massive torches on either side of the path which led up to the entrance. Beyond and all around stood other trees and strange huts which seemed to be made of straw and bamboo shoots. I looked at the temple and saw strange automatons coming out. On closer inspection, they appeared to be mechanically complex but there were two distinct types: one having wheels instead of legs, and the other standing taller and possessing all four limbs. Both had no mouth or nose and had two red lights where eyes should be. These robotic figures shifted on the edges of the carpet and seemed to look at me as I passed them in midair on the way to the temple.
The temple's interior was phenomenal. Everything was brightly lit and appeared to be made of gold. There were other automatons inside (apparently guarding the place), a few humanoid statues that in my mind evidenced idolisation or could be interpreted as such, altars, and, sarcophagi-like structures. From behind a pillar emerged a beautiful Asian-looking woman. She wore a crown, a strange green outfit which was tight on her slender body, and a long cape. She smiled at me and I felt great love and care. I remember feeling attracted to her, too. She floated over golden ground towards me and I met her half way to embrace her in delinquent ecstasy. She towered over me and her hands were extremely delicate.
Suddenly, I heard a manly voice with a cockney accent: "Who do you think you are?" I looked up and saw that, not far from us, stood a white male in blue overalls. He looked angry and disturbed. The environment started to shimmer and I began to lose my conscious focus. I think I told him to calm down several times but he proceeded to lunge at me. He bounced off me every time he attacked and I felt nothing. He wouldn't leave me alone so I decided to push him repeatedly. Dream reality faded and I was back in my body feeling puzzled and awed by this numinous experience.
On the way to the temple: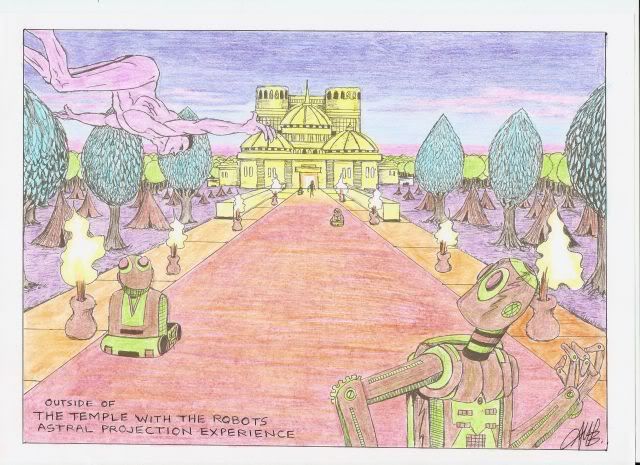 Inside the temple: