Lucid Dreaming CDs and MP3s
These are my favorite lucid dreaming CDs and MP3s - designed to entrain mindfulness (lucid waking) through guided meditation and visualization.
By World of Lucid Dreaming
My earliest lucid dreams, back when I was a teenager, were triggered by a self-hypnosis tape. Combined with basic techniques like dream recall, reality checks and night-time meditation, this is probably the easiest way for beginners to go lucid.
I produced these Lucid Dreaming Hypnosis audios to offer beginners a simple way to perform guided meditation and enter the optimum mental state for lucid dreaming.
More info: Full review or download it here.
---
By BrainSync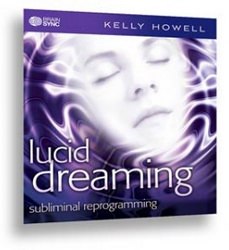 This BrainSync MP3 dedicated to lucid dreaming induction features soft ocean waves, brainwave entrainment and subliminal messages, designed to help you reflexively question the dreamstate and become lucid.
As flashes of vivid imagery dance before your mind's eye, you may feel a "floating" sensation as your mind expands beyond the boundaries of your body. In this deeply relaxed state don't be surprised to receive sudden insights, inspiration or a sense of knowing... as well as vividly emerging dream scenes.
More info: Full review or download it here.