10 Famous Novels Inspired by Dreams
You've probably heard of many of these classic novels before. But did you know they were all inspired by the authors' dreams?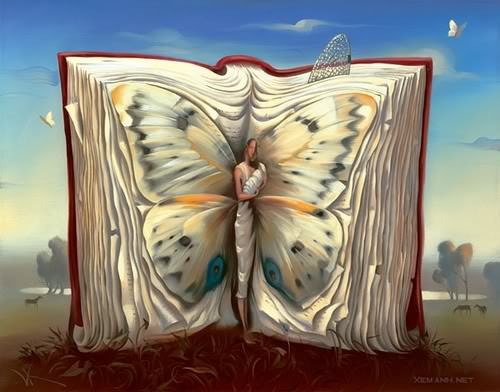 ---
In Stay Awake, acclaimed author Dan Chaon presents us with haunting and suspenseful short stories of scattered families, unfulfilled dreamers and anxious souls who wander between ordinary life and a psychological shadowland. They have experienced intense love or loss, grief or loneliness, displacement or disconnection and exist in a twilight realm, in a place by the window late at night when the streets are empty and the world appears to be quiet.
One particular tale called The Bees - about a man who becomes unhinged by his young son's sleep terrors - has personal roots for Chaon:
"When my son was about 4 or 5, he went through a period of having night terrors. He would wake up screaming and screaming at the top of his lungs and we would jump up and go running in and then he would suddenly snap out of it and settle back peacefully to sleep. But when I tried to go back to sleep myself, it was full of anxious, ominous dreams, and the beginning of this story came out of that experience, those nightmares."
---
A pandemic has devastated the planet, sorting humanity into two types: the uninfected and the infected, the living and the living dead.
After the worst of the plague is over, Mark Spitz is a member of one of the sweeper units tasked with clearing lower Manhattan of the remaining feral zombies. Zone One unfolds over three surreal days in which Spitz is occupied with the mundane mission of straggler removal, the rigors of Post-Apocalyptic Stress Disorder (PASD), and the impossible task of coming to terms with a fallen world. And then things start to go terribly wrong.
At once a chilling horror story and a literary novel by a contemporary master, Zone One was inspired by the many zombie dreams that Whitehead had after seeing Dawn of the Dead at age 12. He had house guests at the time and in the dream, they had finally left. "In the dream," Whitehead recalls, "I thought to myself, I wonder if they swept all their zombies out." From this starting point, Whitehead staged his drama at his hometown of New York City.
---
In 1886, Stevenson dreamed up three key sequences from this fantasy thriller novel. A sick man for most of his life, he wrote mainly to support his family. Until, that was, it came to the inception of Jekyll & Hyde.
"For two days I went about racking my brains for a plot of any sort; and on the second night I dreamed the scene at the window, and a scene afterward split in two, in which Hyde, pursued for some crime, took the powder and underwent the change in the presence of his pursuers."
While recovering in bed from a hemorrhage, Fanny Stevenson heard his screams resulting from an opium-induced nightmare. He promptly awoke and complained: "Why did you wake me? I was dreaming a fine bogey tale."
Fanny later discovered she had woken him at the first transformation scene.
The success of his book was phenomenal. To this day, the phrase Jekyll & Hyde is part of our language, an idiom referencing someone who has dual personalities and swings between good and evil behavior.
---
Here's a most memorable horror story that began as Stephen King drifted off to sleep on a flight to London. He dreamed of a chilling tale about an insane woman who mutilates and kills her favorite writer, binding a book in his skin.
The final product came out just a little different. Bestselling novelist Paul Sheldon meets his number one fan after surviving a car crash, and Annie Wilkes becomes his nurse, tending to his shattered body. But she is also his captor, keeping him prisoner in her isolated house...
Misery was later adapted to the big screen in the hit horror movie starring James Caan and Kathy Bates.
---
In "a kind of waking vision" and "the remnant of a dream", William Styron created the concept for this classic 1979 novel in which three stories are told.
In one, a young Southerner aspires to become a writer. In another, a turbulent love-hate affair grows between a brilliant Jew and a beautiful Polish woman. And in the third, an awful wound in a Sophie's past impels her toward destruction.
"I think there was a merging from the dream to a conscious vision and memory of this girl named Sophie," explained Styron. "And it was powerful because I lay there in bed with the abrupt knowledge that I was going to deal with this work of fiction."
The vision involved Sophie "entering the hallway of this humble boarding house in Flatbush with a book under her arm, looking very beautiful in the middle of summer with a sort of summer dress on and her arm bared and the tattoo visible... I was seized by this absolute sense of necessity - I had to write the book."
---
This collection of short stories by H G Wells is said to have sprouted from his dreams - most notably the closing tale, A Dream of Armageddon. It speculates on one of the terrifying directions that future technology may take us.
"In truth the mastery of flying was the work of thousands of men- this man a suggestion and that an experiment, until at last only one vigorous intellectual effort was needed to finish the work. But the inexorable injustice of the popular mind has decided that of all these thousands, one man, and that a man who never flew, should be chosen as the discoverer, just as it has chosen to honour Watt as the discoverer of steam and Stephenson of the steam-engine."
"And surely of all honoured names none is so grotesquely and tragically honoured as poor Filmer's, the timid, intellectual creature who solved the problem over which the world had hung perplexed and a little fearful for so many generations, the man who pressed the button that has changed peace and warfare and well-nigh every condition of human life and happiness."
---
Often cited as the world's first science fiction novel, Frankenstein was inspired by a vivid nightmare. At 18 years old, Shelley visited Lord Byron by Lake Geneva in Switzerland. They were locked in a cold volcanic winter caused by the eruption of Mount Tambora the year prior, creating Europe's "year without a summer". Stuck indoors and huddled around a log fire, Byron suggested they each write a ghost story - but, night after night, Shelley was unable to think of anything suitable.
Then one evening, when discussion turned to the nature of life, Shelley suggested "perhaps a corpse could be re-animated" backed by the thought that "galvanism had given token of such things". Later that night after turning in, her imagination took hold and she experienced what she described as a vivid waking dream:
"I saw the pale student of unhallowed arts kneeling beside the thing he had put together. I saw the hideous phantasm of a man stretched out, and then, on the working of some powerful engine, show signs of life, and stir with an uneasy, half vital motion. Frightful must it be; for supremely frightful would be the effect of any human endeavour to mock the stupendous mechanism of the Creator of the world."
---
Here are two profound essays on psychoanalysis by one of our most famous and controversial authors.  
D H Lawrence wrote Psychoanalysis and the Unconscious and Fantasia of the Unconscious in the early 1920s. Initially intended as a response to psychoanalytic criticism of his novel Sons and Lovers, these works progressed into a counterproposal to the Freudian psychoanalytic theory of the unconscious and the incest motive. They also voice Lawrence's concepts of education, marriage, and social and political action.
"This pseudo-philosophy of mine," explained Lawrence, "was deduced from the novels and poems, not the reverse. The absolute need one has for some sort of satisfactory mental attitude towards oneself and things in general makes one try to abstract some definite conclusions from one's experiences as a writer and as a man."
Lawrence goes on to articulate his insights into the mental struggle to rationalize and reconcile the polarity that exists between emotional and intellectual identities. Critical to understanding Lawrence's other works, they offer a bold synthesis of literary theory and criticism of Freudian psychology.
---
Jane Eyre ranks as one of the greatest and most perennially popular works of English fiction.
Although the poor but plucky heroine has an outwardly plain appearance, she possesses an indomitable spirit, a sharp wit and great courage. She is forced to battle against a cruel guardian, a harsh employer and a rigid social order... all of which circumscribe her life and position when she becomes governess to the daughter of the mysterious and sardonic Mr Rochester. However, there is great kindness and warmth in this epic love story set in the Yorkshire moors.
The story arcs through highly detailed dreams - both while asleep and during slips in and out of consciousness. Though the inspiration may or may not have directly stemmed from her own dreams, Bronte had a skill for the literary device of prophetic, subconscious visions aping their real-life hallucinatory, stream-of-consciousness structure.
---
A beloved character from children's literature, Stuart Little is no ordinary mouse. Born to a family of humans, he lives in New York City with his parents, his older brother George, and Snowbell the cat. Though he's shy and thoughtful, he's also a true lover of adventure.
Inspiration for the talking rodent stemmed from a dream of E B White's in the 1920s, although it took him two decades to convert his notes into a novel.
In 1999, Stuart Little became a movie of the same name.
---