Learn to Lucid Dream for 2016

As another year draws to an end, I realize there are still tons of things on my "someday" list. Things that I'm passionate about doing - someday - if only I focused my time and energy on them. But until this happens, the years slip by and those dreams disappear.
For some people, lucid dreaming can easily slip into the someday list.
To help you on your lucid dreaming journey I have poured all my knowledge and experience into an online course called the Lucid Dreaming Fast Track.
The course, which is accessed by logging in online, is designed to teach you everything you need to know to induce lucid dreams and use them, not just for escapism, but to enhance your waking life too.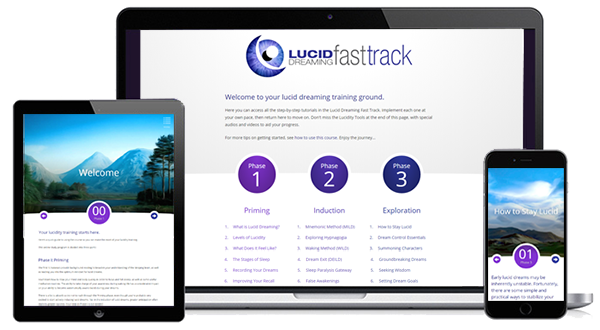 The Lucid Dreaming Fast Track Has Helped Thousands of People
The idea behind the LDFT is simple. Every day, you log on and read through a new lesson, which takes about 5-10 minutes. You can do this any time of day. Then you put the lessons into practice at night. This way, you take on core lessons in bite-size chunks that together contain the power to bring your dreams into conscious clarity.
The LDFT started its life back in 2009 when I published an ebook called The Art of Lucid Dreaming. People loved it. And as I developed my teaching style through the website I discovered an even better way to convey my lessons. And so in 2011 the Lucid Dreaming Fast Track was born.
I've continued to expand the course every year and all my students - past and present - get full access to everything forever. Most recently I've added new meditation audios, which you can listen to as you fall asleep at night while practicing tried-and-tested lucid dream visualizations.
The LDFT has helped many thousands of people "wake up" in their dreams. Conscious dream exploration is my passion and I still get a rush whenever I become lucid. I wake up in a world where anything is possible. A world which is devastatingly realistic. A world which is completely liberating. I find it euphoric on multiple levels.
I really hope you set your mind to lucid dreaming in 2016 and get to experience the thrill of a waking dreamworld. Grab your copy of my bestselling lucid dreaming course here. Good luck!