Lucidity by LucasArts: An XBox Live and PC Game for Lucid Dreamers
LucasArts - the funky US games developer famous for its work on The Secret of Monkey Island - will release its latest title, Lucidity, on October 7 2009.
Lucidity is a brand new addictive puzzle platform game set in the dreamscapes of a small girl named Sofi. A curious gal, Sofi has a constant desire to discover and explore new worlds while overcoming the many obstacles in her way.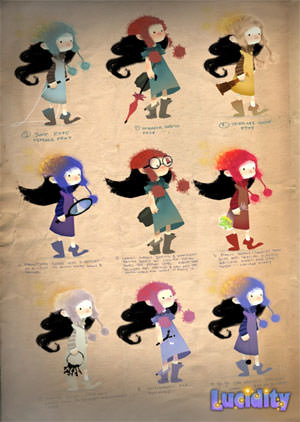 Your goal is to keep Sofi safe, solving puzzles based on quick reactions, and keeping the journey in motion. You'll also pick up useful items on the way, including spring shoes and a slingshot.
To get a feel for their latest character look, check out the original costume designs for Sofi (right).
"Lucidity comes from our effort at LucasArts to form several small internal development teams and give them the creative freedom to make games that surprise, amaze and inspire," said LucasArts President, Darrell Rodriguez.
"The re-imagining of The Secret of Monkey Island and the development of the all-new Lucidity are just the beginning of this effort."
Famous for adding memorable soundtracks to its adventure games, LucasArts has already drummed up a fair bit of excitement in Lucidity. I'm sure this will appeal to lucid dreamers and puzzle-lovers everywhere.
Lucidity launches on October 7 on XBox Live Arcade and PC (likely via Steam only). To learn more, visit the LucasArts website.