The Sleepsonic Pillow Review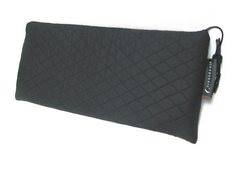 The Sleepsonic Pillow takes the place of bulky headphones with a digital stereo embedded into the pillow.
It's ideal for privately listening to meditation music, hypnosis and brainwave entrainment audios as you go to sleep or meditate and so is a good support for lucid dreamers.
The first technology of its kind, the Sleepsonic Pillow doesn't disturb anyone else in the room. Besides supporting your lucid dream incubation through visualization and meditation practice at any time of day or night, Sleepsonic is also recommended to help treat a number of medical conditions including:
Stress and anxiety
Post Traumatic Stress Syndrome (PTSD)
Hypercussis
Tinnitus
Insomnia
Sleep apnea
Restless leg syndrome
You can use the speaker pillow on its own or place it on top of your regular pillow and connect it to your smartphone, MP3 player, CD player, PC or stereo system. It comes with a 6-ft detachable audio extension cable so there are no batteries required.
The digital stereo speakers produce excellent sound quality without disturbing anyone around you, so it is ideal for couples, students in dorms room, hospital wards, or anyone else who shares a bedroom. Overall it produces an intimate listening experience without the discomfort of headphones or earphones.
The free-standing sound system is also a handy for traveling and is small enough to fit in your carry-on bag on the plane.
One of the best applications for the Sleepsonic speaker pillow is to comfortably listen to brainwave entrainment when you go to sleep. Often this requires the use of headphones. However the Sleepsonic enables the frequency following response without any distracting headphones or earphones required.
What's more, meditation MP3s require extended listening while you become physically and mentally relaxed. If you find it difficult to relax like this while still wearing headphones, it can hinder your night-time mediation attempts. Speaker pillows eliminate this problem entirely.
NOTE: As of July 2018, it appears that the Sleepsonic is no longer available. Never mind! If you fancy trying out some pillow speakers, just give these a go.